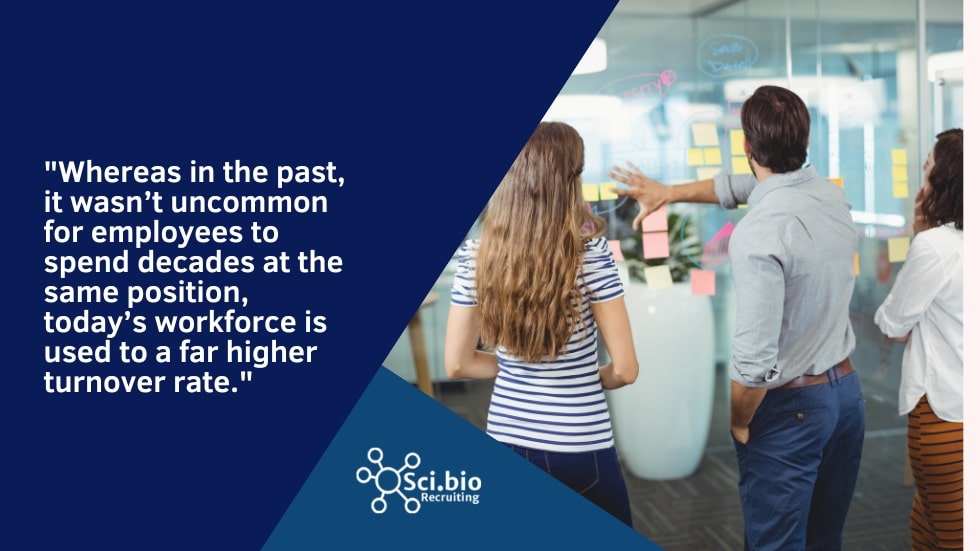 Author:  Tara Smylie
Let's discuss job hopping.  As a recent grad or job-seeker, you may have been spending some time charting out potential career paths. If that's the case, you may have wondered: how long should you plan to stay at each of your positions?
On the one hand, you probably want to upskill in your field, experiment with what you like, and ascend as quickly as possible in your career. On the other hand, you may crave a sense of stability at work, long-term office friendships with coworkers, and a track record of loyalty to flex to your next employer.
As with many such quandaries, there's no one-size-fits-all answer. When it comes to semi-regularly switching employers, or declining to do so, everyone has their own style. A combo of personality, risk tolerance, and career goals will determine yours.
What is "job hopping" anyway?
Job hopping is the practice of moving from one job to another after a relatively short time – usually, less than two years. It wasn't always the popular way to do things, but it's increasingly normal in today's fast-paced world. Whereas in the past, it wasn't uncommon for employees to spend decades at the same position, today's workforce is used to a far higher turnover rate.
If a chronic job hopper plays their cards right, employers will understand the value of their varied work history. In biotech specifically, job hopping is often seen as a net positive. It's only natural that in such a multi-skilled industry, employees would want to hop around learning as much as they can. Smart employers understand that there are benefits to the practice, and will gladly consider hiring candidates who've jumped around a little more.
Shifting gears on the regular: what are the benefits?
Frequently changing up your employment situation may help to fast-track your career. For one thing, you'll have the chance to learn new skills and to experience multiple different environments. As a frequent position-switcher, you'll also have the chance to meet many more people – all of whom could help you out down the line.
You'll also learn the rare skill of adaptability. Employees who have been in the same role for decades are likely to be more set in their ways – but the chronic job-hopper has learned how to quickly adjust to new settings. If you've made quick, smooth transitions in the past, employers will realize you're likely to keep that pattern going.
And finally, a longer-than-average list of former employers can actually boost your profile as a potential hire. Naturally, employers love to know that the talent they hire is widely sought-after. Assuming you've been employed pretty consistently over the years, job hopping can highlight just how in demand you really are.
What are the risks?
Though they may have some doubts, many employers will still give job hoppers a shot at an interview. At that point they may ask for some details on previous stints, so some extra preparation may be in order on your end.
Then there's the risk of giving up a good thing. If you regularly switch up your work situation, you may come to expect something better and better every time – but sometimes, a bird in the hand is a bird worth holding onto. If you score a position that checks 9 out of 10 boxes, consider staying there for longer, instead of defaulting to job-hunt mode at the first sign of imperfection.
If you're considering job hopping as a career strategy, also consider the kinds of connections you'd like to make. If you're frequently changing jobs, the size of your network will naturally increase – but on the other hand, its quality may suffer. So if you want to leave a lasting impression on your coworkers, you may have to make a little extra effort.
The takeaway on job hopping
So, should you plan to do some job hopping at some point in your career? If you've got stamina for the search, a knack for learning new skills on the regular, and/or an affinity for new environments, it just might be for you. Remember, you can always stop hopping when you feel like settling down a bit more.
Here at Sci.bio, we aim to help facilitate the best matches possible between talent and talent-seekers. We can help you find a position that will help to kickstart your career, and lead to exciting opportunities down the line. Check out our recruiting services for more information.
References