We Discover and Deliver Rare Talent. One Hire at a Time.
Sci.bio is perfectly positioned to provide exceptional biopharma talent for our selective clients. Our focus is on developing long-term relationships based on our performance and mutual trust.
Our high performing team members have worked in scientific, technical, and corporate HR roles themselves and are therefore uniquely equipped to meet our client's challenges when it comes to attracting and hiring scientists and technical candidates. 
We are deeply committed to meeting our clients demand for top talent, and our track record shows it.  We've built a reputation for being at the top of our game for service, delivery, and value.
We understand our clients' reputations are important, so we set the bar high in our search for new talent and represent our clients with the utmost professionalism. In the process, we strive to build trust with candidates by providing as much insight, feedback, and assistance as possible.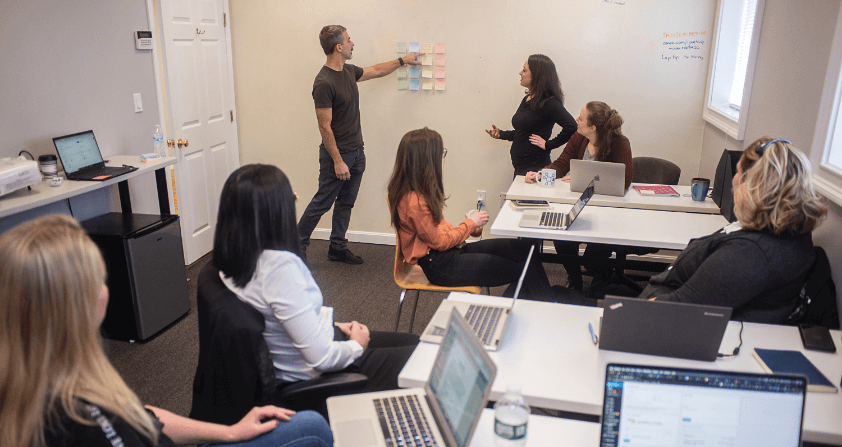 At Sci.bio, our recruiters have scientific backgrounds and hands-on experience in industry and corporate roles. Our team has a diverse set of recruiting experience, ranging from in-house corporate talent acquisition to agency environments, to onsite RPO and consulting roles. This wide range of experience allows us to operate as an extension of our clients' hiring team. We are deeply committed to helping our clients grow their workforce with top talent, and our track record shows it. Our clients appreciate the depth of our scientific knowledge and our helpful business insights.
Our success comes from developing lasting relationships with both clients and candidates. We know that candidates become clients and clients become candidates, and our ultimate goal is to build mutually beneficial long term relationships, not to make a quick commission and move on. To that end, we strive for transparency and honesty throughout the recruitment process. We help guide hiring managers and HR teams in the best hiring practices, and we offer candidates thoughtful feedback to help them improve their odds of landing their next opportunity.
With our wide experience in recruitment methods, we can offer more options to our clients, increasing satisfaction with the process. Our multifaceted recruiting approach, built around three main modes of recruiting, was designed for client flexibility and quality without gimmicks, hidden fees, or long-term contracts. We have an in-house sourcing team focused on finding the most qualified candidates, no matter how elusive they might be. We pride ourselves on a high quality process combined with high quality candidates, and will take quality relationships and placements over quantity any day.
The team at Sci.Bio has both a wide range and many years of experience in the biotech and recruiting space. We are able to pull from past successes and challenges to serve our current clients' diverse hiring needs. We strive to provide each client with a seamless, informative, and ultimately successful recruiting process. At the same time, we work to ensure a positive candidate experience by providing as much insight, feedback, and assistance as possible. Our focus on customer service and relationship building is a hallmark of the Sci.Bio experience.
Ready to hire the best talent?