Authors: Sahana Nazeer and Lauren Perna
In the super competitive world of life science employment, culture ranks top of the list of reasons people decide to join a company. While a nice paycheck and great benefits are important, the type of work and the people at a company are the top priority for most employees. According to Biospace's 2019 Ideal Employer Report "interesting and meaningful work" is the #1 quality in an ideal employer.  In a survey of 2,700 life science professionals, 74% of respondents said team dynamics was important.
The trend is not unique to the life sciences industry. Glassdoor conducted a Mission and Culture Survey last year across four countries (including the U.S.), and the main takeaways from the survey all highlight the cruciality of company culture.
Over 77% of adults take into consideration a company's culture and 79% weigh a company's mission and purpose prior to applying.
A little over 50% of adults stated that company culture is more important than salary in terms of job satisfaction.
73% of adults will not even apply to a company unless its values align with their own.
In order of greatest to least importance for employee satisfaction, adults listed culture and values, senior leadership, career opportunities, business outlook, work-life balance, and compensation and benefits.
Culture matters so much now that the fine people at MIT Sloan created a Culture 500 Index–an interactive tool that measures how major companies rank across nine different values that they have identified as being a critical part of corporate culture. The data is based on a sample of companies on Glassdoor, representing 33 industries with an average of 18 companies per industry. Each of the companies in the sample had at least 2,000 reviews. The Culture 500 is a benchmark for company culture, celebrating success and encouraging improvement.
According to MIT's introductory report on the Culture 500: "A healthy company culture can turbocharge corporate performance."
In fact, the report states that there is research showing "a good corporate culture is correlated to higher profitability and returns to shareholders."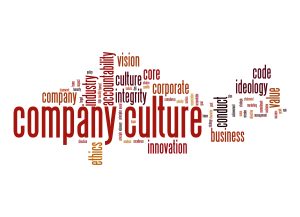 So, what makes a good culture? According to the Culture 500, the nine values to consider include: agility, collaboration, customer, diversity, execution, innovation, integrity, performance, and respect. The biotech and pharma industry did the best in the customer category, which makes sense given most people join this industry to help others. The industry also did well in the integrity and respect categories, while some categories were a mixed bag like innovation and diversity. Agility was the industry's weakest category, meaning biopharmas do not "move quickly and effectively to changes in the marketplace and seize new opportunities," which makes sense given the amount of resources and time it takes to make a drug.
Larger companies may seem like the clear front-runner in the culture department, since they have the financial resources to create a positive culture or improve a not-so-great one. But size is both the advantage and their disadvantage.  In a large, well-established company, it can be really hard to combat a bad culture and the ramifications can be detrimental (i.e. Wells Fargo).
That's where the startups have an advantage.  They can create an appealing work environment from the ground up, and in the hot life sciences job market that's important. As we've stated before, smaller companies need to sell their culture and mission because they cannot compete with the larger biopharmas in the salary and benefits department.
MIT's Culture 500 is a great tool to help companies who are starting out and for companies who wish to improve. Companies can also delve deeper into Culture 500's data source—Glassdoor. With over 49 million reviews on the site, there's bound to be some helpful nuggets of information from companies not used on the Index.
Now that we understand culture a little better, we can talk about how to go about executing a good culture. In our second part of this five-part series, we tackle the execution of culture.