The Greater Boston Food Bank is a member of Feeding America, the nation's largest hunger-relief organization.
"Through compassion and action, together we can End Hunger Here."
Recently some of the Sci.bio team visited The Greater Boston Food Bank to volunteer!
[sp_wpcarousel id="43949"]
The team helped with organizing food donations and building out care packages. We are so proud to be involved with one of largest food banks in the nation and enjoyed the opportunity to give back to our community! The Sci.bio team values the opportunity to give back despite all of our busy schedules!
Interested in volunteering? Check out their website at www.gbfb.org/ 
Volunteers at The Greater Boston Food Bank play a critical role in helping to end hunger in Eastern Massachusetts, and their role is even more critical now given the increased need for food as a result of the pandemic. GBFB is committed to keeping their network in operation and getting food to neighbors in need but they can't do that without you.  Through the compassion and commitment of supporters, staff, partners, and volunteers, The Greater Boston Food Bank (GBFB) takes a bold, innovative and multi-pronged approach to achieve their mission.
The Goal: Three Meals a Day
The map below features GBFB's town-by-town progress toward their goal of distributing enough food to provide three meals per day for each food-insecure individual in Eastern Massachusetts.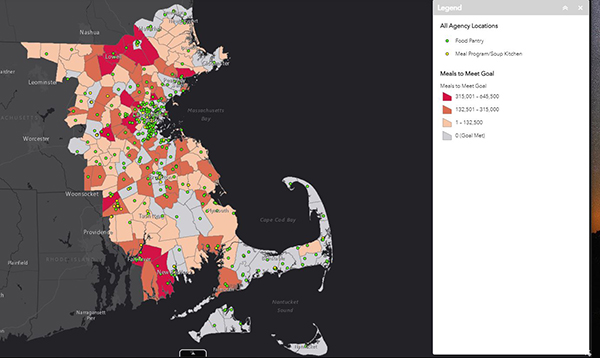 [carousel_slider_divi_module _builder_version="4.15.1″ _module_preset="default" global_colors_info="{}"][/carousel_slider_divi_module]