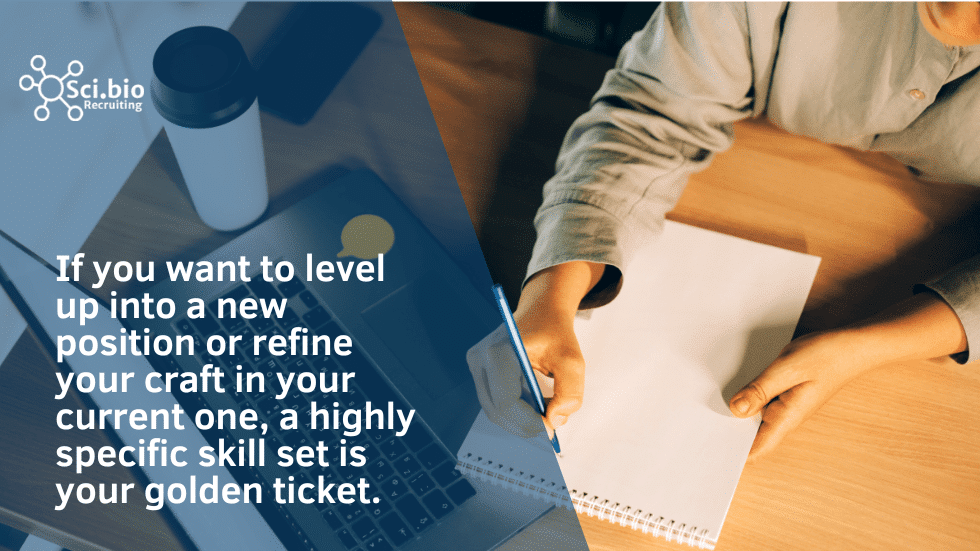 Author:  Tara Smylie
Online courses – how important are they once you're employed?  Once you've finished with college, you're done learning and can now sail by on the skills you have, right? Wrong! More than ever, learning is a lifelong process, and new skills can come in handy when you least expect them to.
If you work in the life science industry, chances are your whole career is built on discovering and analyzing new information. It never hurts to broaden your perspective with a little more! Whether you're looking to enhance your skills in your current position, level up into a new one, or prepare for the workplace of the future, an online course on your resume can help show employers and peers that you're ready for a challenge.
General Courses for General Knowledge
Chances are, you're not an expert in every single scientific field. If you can identify an area of study that would help you in your current role, it may be a good time to bulk up on some learning! For the record, willingness to learn is high on the list of qualities employers look for in potential employees. Show them you've got what they're looking for by skilling up in a relevant field.
Maybe you work as a geneticist, and you'd like to gain a more thorough understanding of anatomy. You may not need the knowledge, but a course in the subject would likely deepen your knowledge and understanding of your own practice. As a science/biotech practitioner, other subjects you may want to consider learning more about include biostatistics, immunology, and computer science.
Online Courses on Hot New Topics
There's no quicker way to learn about a new industry than a one-and-done online course. With so many virtual education options literally at our fingertips, we can easily dive into topics that aren't relevant to us yet, but that we believe will be soon.
So, what's trending now? Well, for example, ChatGPT – and so are discussions about exactly what it can and can't do. Ever considered taking a course to get some real answers? Then there are up-and-coming scientific and medical fields like health informatics, nanotechnology, and quantum biology. If one of these highly current fields piques your interest, don't hesitate to jump on the bandwagon and learn more.
Developing Specific Skills
If you want to level up into a new position or refine your craft in your current one, a highly specific skill set is your golden ticket. For traditional science positions, some useful in-your-pocket skills include data analytics, bioinformatics, and digital literacy for scientists.
Maybe it's not even a skill you need for your career, but one you'd like to understand because you work with others who use it. In this case, you can still go for it! There's very little downside to learning a new skill. In fact, scientists who continuously learn new skills can expect to reap many benefits in their careers.
Consider a Communications Course
If information can't be communicated, it loses its value. As a result, writing, speaking, and presenting are fundamental aspects of any industry. Consider a course like this offering by the American Society for Biochemistry and Microbiology to kick your science communication skills up a notch.
You may or may not see yourself as a communications expert, but even a small improvement in your verbal skills can lead to major breakthroughs in your job performance. For example, if you're working as a data analyst, strengthening your writing skills could inspire you to write a LinkedIn post about applying statistics knowledge to the real world. Naturally, this could broaden your network and lead to new career opportunities.
Bottom Line: Up-Skill to Reap Rewards
Sometimes it's intimidating to take the leap and learn something new. Keep in mind that you won't become an expert overnight, but even a bit of extra knowledge can set you apart from the crowd. Online courses are abundant and generally affordable – so if you have the time, there's no reason not to level up your skill set!
If you'd like to peruse job opportunities that incorporate a wide variety of skills, Sci.bio's recruitment services can help.
References: