Talent Acquisition has evolved over the years in a rather dramatic fashion. What used to be merely recruiting or staffing is now often called talent acquisition which consists  a suite of services and processes intended to attract, source and hire new talent into an organization. These processes vary from organization to organization but here is a general example of a typical small to mid sized company scope of services: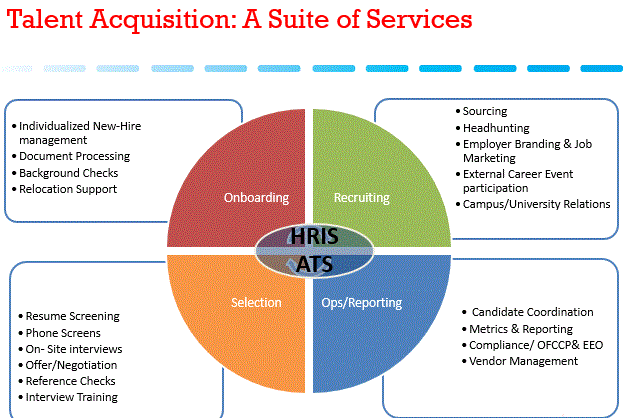 The outsourcing of Human Resources. has accelerated in recent years and will continue to increase because it makes good  sense from cost and efficiency standpoint. While some companies wholly outsource to a single outside firm, It's a more common practice to divvy up functions to a range of outside providers.
Talent Acquisition is a core HR function and often has a deep reliance on third-party vendor partnership. Recruitment firms and staffing agencies usually make up the bulk of these vendors and having multiple vendors can negate any volume discounting for work performed and thus there is a propensity to overpay because of the lack of volume discounting and team synergy among other things. This "catch-as-catch-can approach is a common occurrence in fast paced industries like Biotech and High tech where it is just too difficult to keep up..
Utilizing a Recruitment Process Outsourcing (RPO)Model is an ideal way of consolidating vendors for cost reduction, however, for many hiring managers and staffers, the thought of outsourcing their recruiting function can be feel intimidating. This is understandable as while there are many benefits, there are also some risks both financially and legally. Yet the real risk for HR teams is not mobilizing quick enough and with the requisite support to provide their business with the talent they require. Implementation can be wide in scope covering all aspects of TA or narrower such as taking on a group of hires or expanding a part of the business. There can be segments that can be taken ala carte such as ATS or Background checking and all of these things can affect pricing.the major categories are
Enterprise RPO- a company-wide outsourcing of most or all of the sourcing and recruiting processes to an RPO provide

Project Based RPO- relegated to a smaller, contained effort, generally a specific scope of time and/or number of positions.

Specific Service RPO-outsourcing of specific parts of the recruiting process to increase for example, the quality of candidates, the efficiency of the process and/or other parts of the process.
It's important for organizations to build a strong high functioning core in talent acquisition but maintaining and supporting a large team that is not part of central business focus is expensive and inefficient. Talent acquisition as a function should by design be flexible and modular and hiring contractors to fill gaps has variable quality and often high cost. A good RPO partner at a minimum can leverage focus and economy of scale in its operation. A great RPO partner can leverage expertise in search selection, technology and process efficiencies to truly elevate hiring operations and overall success.
When IS the right time for your organization to consider partnering with an RPO Firm?
Consider these items before deciding:
Cost: Cost per Hire ($) = [Total External Costs] + [Total Internal Costs] / Total Number of Hires.  Bersin by Deloitte estimates the national average cost per hire, regardless of talent acquisition maturity, is around $4,000 When you factor in all the costs,such as advertising job postings, conducting background screenings, and investing in recruiting and applicant tracking software. In partnering with an RPO vendor, all these expenses are rolled into one cost that's often lower than what you pay if you paid for these service individually.

Time: Is your team is working well beyond a 40 hour work week and yet, just never seems to have enough time to get everything done. Before choosing a contractor to fill the gab. Consider an RPO approach. It can be far less expensive and can offer similar flexibility.

Process Quality: Are you cutting corners in your hiring process? This can be due to limitations in time and resources but it can also be due to an approach that lacks consistency, focus and follow through. Work with an RPO partner that understands your industry, has a proven track record and can augment or improve your current the process. This will further  allow your internal TA team to focus on bigger, more central priorities

Candidate Quality: Are you organically attracting the best talent for your organization? Are you using a full array of tools and measures to source, attract and vet manage candidate flow and advance your employer brand? Let your internal TA team do the strategic and consider an RPO partner for the tactical elements.

Vertical Expertise: Although many RPO partners are industry agnostic, there is a growing array of RPO firms that that are industry specific. This can offer major advantages over general vendors in the space. Knowing the competitive landscape,  job types, compensation ranges will among other things provide a better foundation for service and provide more sophistication that will be appreciate by hiring managers and candidates alike.
Pricing
This is probably the most asked question and there are a few good pieces on the subject. This is a  major driver in the decision process and while cost, vis a vis a regular, full-time scenario is almost always less, it is important to ask what the long term benefits are versus just investing further in an internal team. Demand transparency, it is vital to get a clear outline of what is covered in the partnership and what items the RPO partner/sponsor company is responsible for.
Before entering into a partnership ask the following key questions:
-What differentiates your firm from others?
-What is  the scope of your services? What resources do you offer?
-Can you provide specific cost itemization so we can compare your approach versus others?
-What measures will you take to ensure that we meet our goals and timelines in hiring? Ask for noncompete or nonsolicitation specifics, and whether they are working with direct competitors or companies that pose conflict(IE strategic partners and embargoed companies)
-How scalable is your service if we need to ramp up? conversely, What level of flexibility do you offer(contractually)? What  if things don't work out or If business conditions change, etc.
-Can you provide client references and insight on previous projects with other clients?
-How will partnering with your firm strengthen our talent brand in the long run?
With these questions answered, here are some specific pricing models, courtesy of Recruitment Process Outsourcing Association:(A great resource for additional information on the subject)
Management Fee Model (monthly, weekly or Hourly) – A fee is paid to the RPO provider for working on an agreed-upon number of positions. The fee may change depending on the agreement, or may have escalation factors if the number of hires increases over a period of time. The cost model is associated with enterprise RPO services and some emerging RPO services, such as white label RPO.

Cost Per Hire Model – A fee is paid for each candidate who is successfully brought through the program and hired (or other action such as offered a position) by the customer. The cost per hire model may be used for short-term project RPO, where the solution is based on accomplishing certain results or the solution is only needed for a few months. This model is also a good fit for point-of-service RPO, where a specific recruiting function (like filling the candidate pipeline) is outsourced to the provider.

Management Fee Plus Cost Per Hire – This is a combination of the above two. This combines the consistent recruiting effort under the management fee, with payments for the success (hires) of the program. This is another cost model that's appropriate for enterprise RPO and point-of-service RPO.

Cost Per Slate – This is a sourcing model where the RPO provider charges a fee for a set number of sourced, screened and qualified candidates for each open position. From there, the candidates are provided to the internal recruiters for continuation of the recruiting and hiring processes. Cost per slate is another cost model that's well-suited for short-term project RPO solutions and point-of-service RPO.

Cost Per Transaction – A fee is charged for a specific process to be completed by the RPO provider, such as initial screening or reference checks. Buyers opting for on-demand RPO services or even consulting RPO services may be charged per transaction, whether it's an hourly rate or for each process or successful candidate.
Summary
An RPO partnership can be an effective means of improving the quality, speed and cost for hiring for many organizations but as with any strategic partnership, there needs to be specific goal outlines. The options aren't binary and an existing TA team can pair nicely with an RPO partnership. As new RPO players emerge, pricing should decline and service options should increase. Technology has leveled the playing field so that smaller firms can offer and RPO partnership is a viable option to consider for large and small organizations alike.