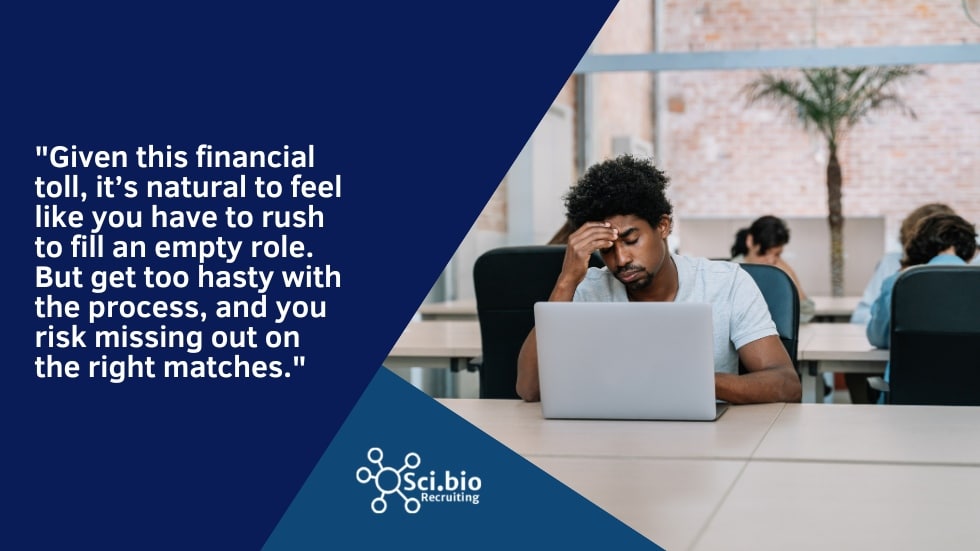 Author:  Tara Smylie
It can be unexpectedly difficult to fill an open position. Naturally, you're looking to hire someone with an excellent set of both hard and soft skills, experience, and the right mindset for the role – but how much time are you willing to devote to the process?
In an ideal world, you'd find the perfect hire immediately, and suffer next to no financial loss. In reality, the search process takes time – and money. Luckily, there are ways to quickly fill a vacancy without compromising on quality of talent.
Nuts and bolts: The cost of keeping a position open.
We all know that vacant positions rack up a hefty bill extremely fast. But what exactly is on the receipt? Here's the breakdown:
The biggest factor, unsurprisingly, is lost productivity. When an important role is left unfilled, the corresponding work is completed more slowly and less expertly than it should – or in some cases, is not completed at all. Many companies with a vacant role will turn to a temp agency to bridge the gap – but naturally, an interim employee is unlikely to be as efficient as a fully trained team member. Other companies may opt to pay existing employees overtime to compensate, which hampers productivity for the same reason.
Depending on your strategy, job boards can rack up significant costs as well. Generally, the larger ones charge a few hundred per job posting – so with a few different sites on the go, you're already out over $1000. If you post on specialized boards in addition, you're looking at $2000 or more. Not a huge expense in the grand scheme of things – but to reap the full benefits of job sites, you'll need a carefully crafted candidate selection process.
The indirect effects of a job vacancy can add yet another layer of expenses. Hard to measure and easy to overlook, these "soft costs" are still very real risks of leaving a job vacant for too long. These can include long-term harm to a company's reputation and resulting growth, deflated morale of current employees, and negative impacts to customer experience. In the biotech world, where process-driven workflow is everything, the effect on overall productivity can be especially devastating.
The exact amount lost per day for a given open position is highly variable, of course – but it's almost always in the hundreds. Given this financial toll, it's natural to feel like you have to rush to fill an empty role. But get too hasty with the process, and you risk missing out on the right matches. In this situation, partnering with a recruiting service can streamline the process.
The best talent in the shortest time
To secure a hire you trust in a reasonable timeframe, you need to act quickly – and make sure you're maximizing all the strategies at your disposal. To start, think LinkedIn, social media, and your own professional network. And never forget the power of word-of-mouth: existing employees have their own contacts that they can call upon to spread the word about the open position.
All of the above steps are made even smoother with the use of recruitment services. A recruiter can help you tap into hidden pockets of talent in your existing circle, while providing their own vast network of candidates. From there, they will come up with a custom-made, cream-of-the-crop shortlist for you to consider. When they help you fill a vital position quickly and effectively, the up-front costs of their services can pay off in spades.
Bottom line: it pays to act fast!
Keeping a position open is expensive – more so than many people realize. To cut back on costs, consider fast-tracking the process by bringing a recruiter on board your talent scouting ship. Whether you're a small start-up trying to stay afloat or a larger company looking to maximize revenue, a recruiter can speed up the sourcing and hiring processes and land you with better-matched talent than you'd otherwise find.
If you're looking to fill a role with a highly qualified candidate, Sci.bio's recruitment services can help. We know that no two clients are the same, so we provide customized recruiting support that adapts to a given client's structure and needs, and have placed successful candidates with a variety of companies. Please contact us to connect with a recruiter and discuss your needs, and follow us on LinkedIn to stay up to date.
Related Blogs:
References: